THIS IS THE SMALLEST CONTAINER YOU CAN HAVE AND IS EXACTLY HALF THE SIZE OF THE 20FT UNIT.
BUY 10FT SHIPPING CONTAINER COMES IN HANDY WHEN SPACE IS AT A PREMIUM, BUT YOU STILL REQUIRE THE STRENGTH AND PORTABILITY OF A SHIPPING CONTAINER.
The 10ft container is about half the size of a single car garage and this makes them ideal for small space storage applications, but they can also be modified to make countless shipping container products.
This sized container is not very common in shipping, so second-hand 10ft containers are usually made by cutting a 40ft container into four equal parts and adding back walls and doors to the cutout pieces. One piece retains the original back end of the larger container while another retains the original door of the container. Tiger containers supplies both new and used 10ft shipping containers for sale and hire. Our containers are of high standard and are competitively priced.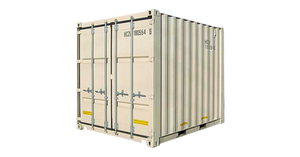 10ft Storage Container
A 10ft shipping container/storage container is considered a standard container. Standard shipping containers/storage containers are 8ft 6in tall on the exterior. The container is comprised of 14-gauge corrugated steel panels throughout. It has lockable double doors on one end. It is equipped with 1-1/8" thick marine plywood flooring on the interior. Although the 10ft storage containers are considered a standard container, their size makes them a bit more specialized.
Buy 10ft Shipping Container Online
They do not get utilized in shipping service, as the larger containers do. Therefore, they are shipped in a different manner and are only available in new or "one-trip" condition. A new or "one-trip" container is not used in shipping service and is only shipped once (from the factory to the USA). A 10ft shipping container is a great option for customers with limited space on-site. They can easily be maneuvered and delivered to residential locations, retail strip malls, convenience stores, or just about anywhere that space is a premium. The 10ft storage container easily fits in a single parking space or driveway. A 10ft shipping container can be transported and delivered on a much smaller and more maneuverable vehicle than the larger container sizes.
$

2,390.99
Tile floors Doors (front or side) Windows Ventilation Electrical Restroom facilities Framed, insulated and drywall Air conditioning & Heat The 10ft office is also called Guard shack, Monitoring Station, Portable Office

Sale!

$

1,200.00 –

$

1,900.00